2021 - 2022 Annual Report
Read AMTA's year in review and see how we remain as committed as ever to supporting our members and the entire massage therapy profession.
AMTA - Supporting Our Massage Therapy Community
AMTA's 2021/2022 fiscal year was a time of dynamic change in the profession. While 94% of massage therapists were back to work, all were navigating the new normal of practicing massage therapy in the era of COVID-19. AMTA remains committed to supporting our members in these ever-changing times.
An important part of this support, is our advocacy and outreach work to increase the recognition and acceptance of massage therapy in an integrated approach to care for pain management. The pandemic has exacerbated the pain crisis in the U.S., and non-pharmacologic therapies, including massage, are more crucial than ever for helping people manage their pain and health conditions.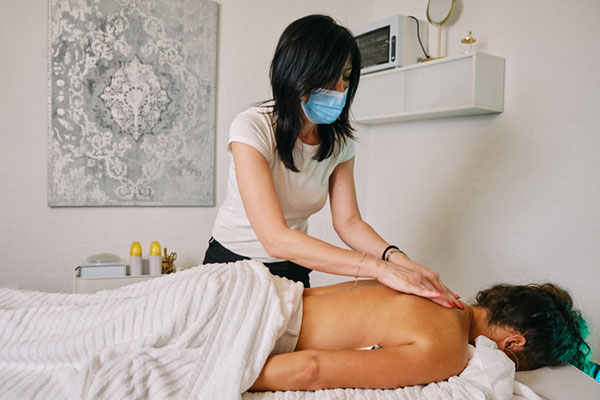 Throughout 2021 and 2022, AMTA continued to ensure our members across all states had the information they needed to practice massage therapy according to evolving legal guidelines, following the latest updates on COVID-19 executive orders.
We also stayed focused on creating safe opportunities for massage therapists to obtain the continuing education required in many states for license renewals by giving access to free online courses (since many face-to-face workshops were still not taking place in 2021), and we advocated for massage license renewal extensions and other waivers in states where appropriate.
The Future of Massage Therapy Looks Bright
The massage therapy profession rebounded in a strong way in 2021 and continues to thrive in 2022. Therapists have used their creativity and adapted - changing work environments, enhancing cleaning and appointment procedures, and listening to feedback from their clients who are increasingly looking to massage for pain and health reasons.
As we look ahead, AMTA continues to be the non-profit organization representing the profession, with the largest membership of any massage therapy organization. We believe it is our responsibility to give back. That's why approximately 80% of each dollar that AMTA spent last year went directly to our member programs and the activities of our chapters. AMTA continues to be financially sound, which ensures that we can do the most in the profession to actively support massage therapy, all massage therapists, as well as incoming students and schools.
Our benefits and liability insurance are still the strongest in the massage therapy profession. And, we are always working to make them even better, which contributes to AMTA being recognized as the most respected and most trusted name in massage therapy.
AMTA focuses on helping our over 95,000 members practice successfully so you can save your energy for serving your clients. This is our goal every day.
Financial Overview
Approximately 80 percent of each dollar AMTA spent last year went directly to support our member programs and the activities of our chapters.
AMTA Assets
FY 20/21 $41,319,447
FY 21/22 $43,677,488
Member Services and Programs
Continuing Education to Meet Your Needs
Online Courses
AMTA's robust catalog of online courses offers the most efficient way for massage therapists to access timely and trusted information while enhancing their skills. Our courses cover topics that allow massage therapists to better help clients' conditions, invest in self-care and manage their practices. All massage therapists can now choose from more than 100 rigorously-vetted courses to expand their knowledge and satisfy CE requirements.
AMTA's top-quality education portfolio grew in 2021 with the help of leading experts in the massage therapy field, including the following new courses:
Cancer and Massage Therapy: Advanced Session Planning Part III
Pathology and Massage Therapy
Cupping Therapy and Your Massage Practice
Headaches: Relief with Massage Therapy
Ethical Decision-Making
Browse all of AMTA's online courses
2021 National Convention
In 2021, AMTA's Board of Directors made the difficult decision again to cancel our National Convention in Tampa, Florida to keep our massage therapy community as safe as possible. We are looking forward to bringing everyone together in-person for the AMTA 2022 National Convention in Cleveland, Ohio August 25-27 to celebrate the massage profession.
Free CEs for Massage Therapists
AMTA continues to offer an extensive free CE library so massage therapists can take online courses at no charge to meet state licensing requirements or to learn new skills. We are offering free online courses in ethics, research, business & marketing and massage educator courses to the entire profession. Since the pandemic began, massage therapists have taken over 800,000 hours of free online CE from AMTA. Thousands of members and non-members, as well as schools and students, are taking advantage of these high-quality massage education resources, as they continue to find value in distance learning options.
Supporting Our Schools and Teachers In Person Again
In February, AMTA hosted its first in-person education event since 2020, with our 2022 Schools Summit event in San Antonio, Texas. This event provided a great opportunity for teachers and schools owners who were ready to meet face to face to reconnect and learn from their peers. And, to extend the reach of the event even further within the schools community, highlighted sessions will also be made available as online courses in 2022.
Student Scholarships and Student Resources
AMTA continued to provide an array of benefits to students this past year. More than 135,000 massage therapy students have downloaded AMTA's free MBLEx Study Guide, and more than 50,000 students have downloaded AMTA's free anatomy app. The Study Guide can be used on both desktop and mobile devices to allow seamless studying anywhere. AMTA's Massage Anatomy App has also been utilized by thousands of massage students in the classroom to complement the Books of Discovery series and help them prepare for exams.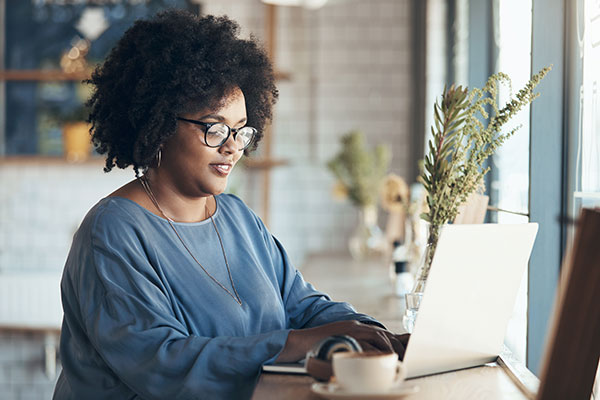 AMTA awarded several types of scholarships to massage therapy students to give back and support the future of the profession. This program offers financial assistance to help students become the best massage therapists they can be as we work together to advance the profession. Your member dollars have contributed to more than $250,000 in scholarships to massage therapy students since the program began!
Discounted Products and Services
We know our members love the profession and understand that operating a practice comes at a price. AMTA maintains relationships with practice-building partners that offer discounts on products important to a massage business, including Massage Warehouse (up to 30% discount), BodyworkSites website builder, MassageBook practice management software, ClinicSense, ODP Business Solutions (formerly Office Depot/Office Max), Schedulicity, Quickbooks and Constant Contact.
Member Resources: Keeping You Connected
Massage Therapy Journal
AMTA's quarterly Massage Therapy Journal puts the focus on members and the profession they love. Compelling content and imagery reflect the diverse needs of our members--from self-care to business tips to the latest research and in-depth information on the impact of massage on various health conditions. We will continue to provide the information members need to succeed in the massage profession, while keeping current with best practices in publishing.
Website: amtamassage.org
AMTA's website features a wide variety of resources for massage therapists including our online CE portfolio of over 100 massage therapy courses, information on massage for health and wellness, online tools such as our newly redesigned Job Bank and our Find A Massage Therapist locator service, plus much more. Members can visit amtamassage.org to renew their membership and report CE credits, access career guidance tools, view member benefit details, and see the latest research.
Hands On
Hands On provides our members with a monthly digital connection to important AMTA news and resources, research stories, event updates, volunteer opportunities and more. We recently redesigned the newsletter to keep it fresh and engaging for our members - be sure to check it out each month.
Massage Today
Massage Today is a bi-monthly trade publication that focuses on the latest industry news, events and people impacting the profession. The magazine connects readers with information important to the massage therapy community.
Career Success Series
The AMTA Career Success Series provides an insider's look at what to expect in specific workplace settings along with the skills needed to land the job. It can be shared with students and those new to the profession.
Monitoring Trends and Educating Consumers about the Benefits of Massage
In today's environment, monitoring trends in the massage profession and consumer behavior is more important than ever. AMTA continued to conduct research surveys in 2021 to keep a pulse on how consumers are viewing massage therapy. This information was then compiled and shared with our members in the 2022 Massage Profession Research Report.
Our most recent AMTA research indicates that 92% of consumers believe that massage therapy can be effective in reducing pain and 91% feel it can be beneficial for health and wellness. In addition, more consumers than ever before (83%) agree that massage should be considered a form of healthcare while few perceive it as just a form of pampering. And, more consumers are getting massage at medical locations than in previous years – these settings include chiropractor's offices, physical therapist's office, alternative therapy clinics, hospitals, and physician's offices.
Last October, AMTA's 25th annual National Massage Therapy Awareness Week promoted the value of massage for health and wellness as part of AMTA's ongoing Consumer Awareness outreach. And year-round, AMTA shares articles and research across Facebook, LinkedIn and Twitter to connect with consumers about the health benefits of massage therapy. With informational content such as 25 Reasons to Get a Massage, AMTA is meeting consumers where they are, educating them on the value of massage therapy and the science behind it. These shareable resources allow members to engage with their own community of clients and friends.
As a result of our outreach, hundreds of thousands of massage consumers continued to use AMTA's FindaMassageTherapist.org to search for AMTA massage therapists, bringing more potential clients to our members. FindaMassageSchool.org also continued to serve as a lead generator for school members, directing potential massage students to AMTA's massage school members.
AMTA also does ongoing outreach to national consumer, business and healthcare media to educate the public on the growing body of massage therapy research. Our press releases on the benefits of massage are published by major media outlets across the country.
Advocacy
Partnerships, Research and Education
AMTA strategically collaborates with associations and organizations who share a vision for the importance of massage therapy in one's health and wellness regimen. This past year, a crucial part of that outreach included joining forces with other health experts on massage and pain.
Here are some of the 2021-2022 highlights of AMTA's efforts in this arena:
AMTA maintains its representation to the American Medical Association's (AMA's) Current Procedural Terminology (CPT) Health Care Professional's Advisory Committee.
In collaboration with the Alliance to Advance Comprehensive Integrative Pain Management (AACIPM), AMTA weighed in on a letter to the CDC on the 2022 Clinical Practice Guideline for Prescribing Opioids. The letter mentioned a number of therapies (including massage therapy) that are discussed by the CDC as alternatives to opioids in many pain-related guidelines but often remain inaccessible for people who can benefit from them. The AACIPM provided a series of recommendations to help increase insurance coverage, remove barriers and broaden access to these non-pharmacologic therapies.


AMTA submitted a comment letter, along with the Alliance to Advance Comprehensive Integrative Pain Management and other health care leaders to offer feedback to the Centers for Medicare and Medicaid Services (CMS) on the 2022 Payment Policies under the Physician Fee Schedule and other changes to Part B Payment Policies proposal.


AMTA sent a comment letter encouraging the FDA to strengthen health care provider education for opioids to ensure that more patients have access to the full range of treatment options – including integrative therapies such as massage to address pain-related issues.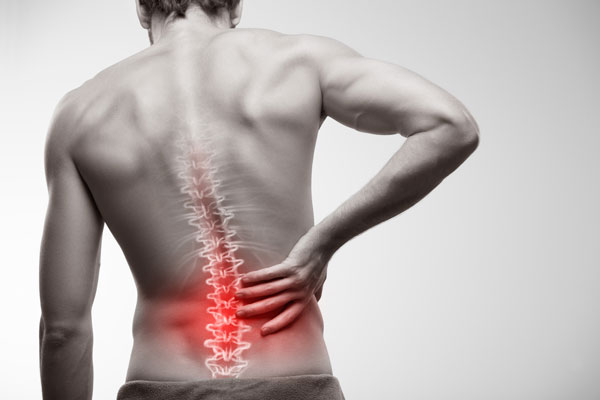 AMTA joined 369 members of an Ad Hoc Group for Medical Research, which includes organizations representing patients, scientists, health professionals, research and academic institutions, educators, and industries, to pen a letter to Congress recommending meaningful annual funding growth for the National Institutes of Health (NIH) a key, bipartisan national priority.
The association submitted a statement to the House Subcommittee on Labor, Health and Human Services, Education, and Related Agencies in support of continued robust funding in the FY 2023 budget for the National Center for Complementary and Integrative Health (NCCIH) within the National Institutes of Health (NIH). We also encouraged additional support for the Centers for Medicare and Medicaid Services (CMS) to implement and disseminate the recommendations of the 2019 HHS "Pain Management Task Force (PMTF)", which include massage therapy for pain management.
AMTA sent a letter to the Secretary of U.S. Department of Health and Human Services (HHS), Xavier Becerra, requesting more concerted efforts to more widely disseminate and encourage the implementation of the Pain Management Best Practices Interagency Task Force (Task Force) Report, its key findings and supporting materials.
AMTA helped ensure that the term "massage parlor" was changed to "massage wellness center" in the 2022 North American Industry Classification System (NAICS). NAICS is the standard used by federal statistical agencies to classify business establishments for the purpose of collecting, analyzing and publishing statistical data related to the U.S. business economy.
The association continued to explore ways to increase patient access to -- and therapist reimbursement for -- massage therapy. Our efforts have focused extensively on public awareness of massage as a viable policy alternative to opioid use (maximizing resources through working with like-minded coalitions to leverage our visibility and encouraging Medicare Advantage insurers to adopt massage therapy as part of their plans). AMTA is active in virtually every major government policy effort that can impact massage therapy.
AMTA Support for AFMTE and COMTA
AMTA continued its commitment to the Alliance for Massage Therapy Education (AFMTE) to support their work to bring the Alliance's Teacher Education Standards Project to the profession.
We also renewed our scholarship commitment to help schools who might have wanted to achieve accreditation with the Commission on Massage Therapy Accreditation (COMTA) but previously may not have been able to do so due to the expense.
Government Relations
AMTA believes massage therapy is essential to a person's overall health and well-being, and that legal recognition of massage therapy and clearly-stated requirements are critical to the profession's advancement. Our Government Relations team is constantly striving to reach the goal of having licensure in every state, promoting fair and consistent regulatory laws, and—at all times—protecting a massage therapist's right to practice.
To support the Government Relations mission, AMTA virtually attended state board meetings in Arizona, Maryland, Tennessee, South Dakota, North Dakota, California, Georgia, Texas, Iowa, Hawaii, Nevada, DC, California, Oregon, Washington, and North Carolina. Staff attended in-person meetings in Indiana, Utah, Louisiana, Ohio, Oklahoma and Pennsylvania.
In addition to our standard visits, the GR team also worked diligently with chapters, local boards and other stakeholders in the following states:
California: Assembly Bill 2687 passed, extending the CAMTC sunset for four years and maintaining the voluntary certification model. Our Government Relations team, AMTA-California Chapter and lobbyist submitted verbal and written testimony and information to the Senate Business, Professions and Economic Development and the Assembly Business and Professions Committees.
Indiana: After several long years of waiting, the rules process regarding transitioning Certified Massage Therapists to Licensed Massage Therapists is complete. Governor Holcomb signed LSA #21-507 recently, and the rules officially go into effect July 13, 2022. This was the result of hard work and dedication from the AMTA-Indiana chapter, our Indiana lobbying team, and the National Government Relations team.
Iowa: AMTA-Iowa and the Iowa lobbyist sponsored HF 2168, a bill requiring mandatory reporting of suspected child or dependent adult abuse. Our Government relations team supported this initiative, and the bill was signed into law on May 23, 2022.

Kansas: Our Kansas Chapter and the Government Relations team continued to make strides towards licensure for all massage therapists in Kansas. We introduced a companion bill in the Senate, SB 531, and the bill was heard in the Committee on Public Health and Welfare. We provided in-person testimony, and the bill is being held over for further study during the interim session. Our lobbyist continues to have meetings with key Senate leadership as we plot our next moves for 2023.
Kentucky: Despite the hard work and best efforts of our team and AMTA-KY, House Bill 8 will go into effect as of January 1, 2023. A 6% sales tax will be required on "non-medically necessary" massage therapy. These are the same services that fall under the healthcare umbrella in many states. The bill states that medically necessary massage therapy will be exempt from the 6% sales tax, but a definition for what is considered "medically-necessary" is not included in the bill. Our lobbyists have been assured that AMTA will have a seat at the table during the rules process to help define what is 'medically necessary'.
Maryland: Our Government Relations team and AMTA-MD has had ongoing meetings since 2020 with the Maryland Board and other stakeholders on eliminating the two-tier licensing system. House Bill 220 and Senate Bill 37 were introduced in January and swiftly made their way through committee hearings, and we are happy to report that single-tier licensing was signed into law on May 29, 2022. Our Government Relations team will continue to be involved as we move into the rules process to ensure that RMPs can easily transition to LMTs.
Minnesota: Our team continued to work on HF 1275 and SF 1074 bills - establishing statewide licensure and regulatory oversight for massage and bodywork therapists. We had no major opposition except for one crucial Committee Chair. In addition, as this was a budget year, there was no time or drive to focus on massage therapists. As we are at the end of the two-year bill life cycle, we will be resubmitting our bills and will have new bill numbers introduced in the 2023 session.
Ohio: A loophole currently exists in Ohio law that allows individuals to perform massage therapy, as long as they do not call what they are doing "massage therapy" or advertise their practice as "medical" or "therapeutic massage." House Bill 81 proposes to delete the words "the treatment of disorders of the human body by". This would clarify the action and not just the intention. House Bill 81 passed the House in June of 2021 and is currently in the Senate Committee on Health. Our team and AMTA-Ohio will continue to work with the legislative sponsors and Senate leadership to pass the bill.
North Carolina: Carolina Complete Health (CCH) is an MCO that reached out to AMTA-NC via our lobbyist regarding the creation of a massage therapy bill in-lieu-of service for a non-opioid alternative to pain management in North Carolina. Since the spring of 2021, we have been working with CCH to create an onboarding process for licensed massage therapists who wish to become a provider under this new program. In addition, we have been working with the AMTA-NC chapter and their legal representation to address the NCBMBT's overreach regarding establishment licensing. The Board has not been honoring the initial agreed-on exemption for solo practitioners, and we are working on a bill draft to address and rectify this issue.
Rhode Island: House Bill 7131 and Senate Bill 2611 would require the Rhode Island Department of Health to create an informational pamphlet regarding alternatives to opioids for the treatment of pain. Health care practitioners would be required to educate patients on non-opioid alternative therapies, specifically including the benefits of massage therapy. Our Government Relations team sent letters of support to the House and Senate Committees on Health and Human Services, as well as an Action Alert to key districts. Both bills are being held over for further study, and we will continue advocating in 2023.
Washington: Our Government Relations team, together with AMTA-WA, has been working for over six months with eviCore to create a training for massage therapists regardless of where they live. The purpose of the training is to educate therapists about eviCore and how it impacts massage therapists and their patients. EviCore creates evidence-based clinical guidelines for health plans to use as medical necessity criteria. Based on this criteria, eviCore reviews massage therapist's requests for services on behalf of the relevant health plans and approves services that meet the criteria. Our AMTA Government Relations team, and AMTA-WA has reviewed several drafts of eviCore material including a video presentation. Currently, we're awaiting feedback from eviCore on our latest comments on the presentation. AMTA is hopeful that a training will be available this summer.
Wyoming: Our Government Relations team continues to work with and support our Wyoming Chapter in pursuing statewide licensure. Our Wyoming state lobbyist was able to secure a sponsor, and SF 0091 was introduced in February. The bill has been referred to the Labor, Health and Social Services Committee and we expect movement during the 2023 legislative session.
Read more about AMTA's advocacy work
AMTA Worked to Defeat Deregulation and Reduction of Massage Therapy Standards Bills
Our Government Relations team also worked diligently to defeat deregulation and reduction of standards bills. Thanks to support from AMTA members and stakeholders in the profession, our community was active in fighting these bills:
Utah: Senate Bill 180 was created at the request of a handful of spa owners who sought to create a pipeline of 'relaxation only' workers- or 'massage assistants'. These massage assistants would be trained by any Licensed Massage Therapist with 6,000 hours of massage therapy practice, and they can have up to six of these trainees under them. The training would consist of only 150 hours of education, and it was unclear how soon these individuals would be hands-on with a client. The scope of practice for this second tier was identical to the scope for LMT's, which is clearly problematic. We worked diligently with the AMTA-UT chapter, and quickly retained a lobbying team. Our National Government Relations team flew to Salt Lake City to assist the chapter and volunteers in a protest at the Capitol, and advocated for industry standards to Utah lawmakers. The bill passed in March, but then died due to a technical clerical error. However, it will be heard in a special session this August, and we will continue to fight to uphold the standards of education for massage therapy in Utah.
Oklahoma: AMTA successfully defeated Senate Bill 1741, an establishment licensing bill that also sought to increase taxes on solo practitioners, strike the liability insurance requirement, and repeal the requirement for a national licensing exam. We were able to activate the membership to call their legislators and request that this bill not be granted a hearing. The bill is dead for the year, but Oklahoma will remain a state to keep an eye on, as there were dozens of shell bills this session with massage therapy in the title, and our lobbyist has advised that consolidation and deregulation remain concerns for 2023.
AMTA is Advocating at the Local Level Too
AMTA also sent letters and guidance documents regarding offensive terminology and or/overly burdensome local ordinances in the following cities: Marietta, GA, Bartlett, IL, Skokie, IL, Colorado Springs, CO, Hoover, AL, Fargo, ND, and Norwalk, CT. In addition, we have recently acquired Curate, a platform that offers our government relations team the means to monitor potential changes in local ordinance changes and stay ahead of the game on this growing issue for our members.
Interstate Compact for Massage Therapists
AMTA has been involved in meetings and conversations with the Council on State Governments (CCG), FSMTB, ABMP, and regulatory representatives from Alabama, Arizona, Florida, Georgia, Mississippi, Nevada, Oregon, South Carolina, Tennessee, Texas, and Virginia regarding draft language for an Interstate Compact for massage therapists. The first draft was recently released for public comment, and we look forward to continued discussions to ensure that all our members will be able to benefit from this potential multi-state license.
COVID-19 State and Local Advocacy Efforts
Over the past year, our Government Relations Team continued to connect with state and local officials for updates on laws, executive orders, and regulations impacting massage therapists. As we receive new information, we continually updated the massage therapy community via an ongoing state-by-state email campaign on how to practice massage therapy legally while mitigating the risk of transmitting the virus. Since the pandemic began we've sent hundreds of emails with state-specific practice guidelines and updates.
AMTA earned a prestigious Hermes Creative Platinum award (for the second year in a row), and a Communicator Award of Distinction, for our COVID-19 Advocacy Campaign Strategic Programs and Pandemic Response. These awards recognize AMTA's exceptional efforts to keep our members informed with the latest resources and guidance on COVID-19 throughout the pandemic.
Support for the Massage Therapy Foundation
AMTA continued to be the primary benefactor of the Massage Therapy Foundation with financial support exceeding $400,000. The association directly supported the MTF's fundraising and awareness-building efforts for the profession, including support for the Boston Marathon awareness-building and fundraising.
Chapters
AMTA's chapters are a unique benefit of AMTA membership and enhance the ability for members to connect at a local level. Your chapter membership enables you to take advantage of continuing education classes and opportunities to network with massage therapists near you, and actively participate in your association. AMTA's 51 chapters reflect the passion and dedication shared by AMTA members.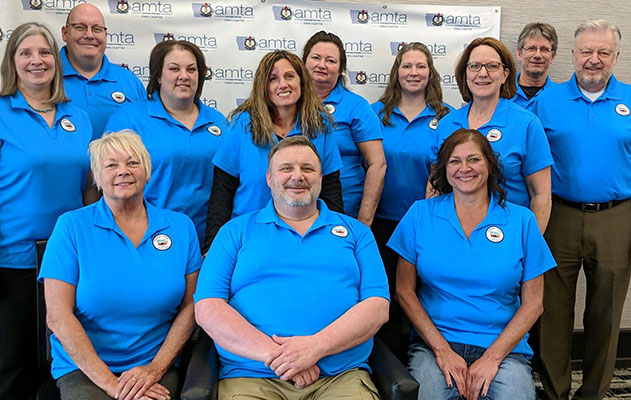 In 2021, the AMTA Volunteer Development and Chapter Programs team worked in concert with member volunteers and leaders to plan and execute a series of virtual events to maintain the usual cycle of chapter annual meetings and volunteer trainings as well as events to conduct the business of the association. In total, 834 AMTA members engaged with the association through these virtual events, which included the following: Virtual Annual Meetings, Governance Open Houses, Chapter Volunteer Orientation Programs, Chapter Presidents Council, Chapter Leadership Training, and the Assembly of Delegates.
Governance and Volunteers
Our National Board of Directors is elected by members to make decisions based on our mission, future directions and vision. The board is also charged with establishing and maintaining the strategic plan, monitoring policies, ensuring the availability of adequate resources, and recruiting new board members and volunteers. These leaders are supported by national committees and other volunteer groups. Expenses related to board and volunteer meetings, training and planning are included in this category.
Administration
Guided by the direction of the AMTA Board of Directors, our staff is charged with evaluating, developing and delivering career-related resources that don't just meet, but exceed our members' professional needs. Administration expenses make it possible for us to deliver exceptional and relevant resources, support and services to all members.
AMTA - Making a Difference
AMTA is the organization it is today because of members like you. Ensure you are making the most of your AMTA membership and community by accessing your benefits and regularly visiting amtamassage.org.