Massage Warehouse Discount
Save up to 30% at Massage Warehouse and pay as little as $6.99 on ground shipping on supply and equipment orders.
Save with AMTA & Massage Warehouse
Only AMTA members save up to 30% at Massage Warehouse on thousands of supplies for your practice including:
Massage tables, chairs and related accessories
Massage cremes and lotions
Skincare
Hot and cold therapies
AMTA Exclusive: up to 30% off all Bon Vital' products!
SAVE on shipping! Pay as little as $6.99 on ground shipping* on supply and equipment orders. Your AMTA member price is displayed in your shopping cart. AMTA member discount does not apply to products already discounted by Massage Warehouse.
Not a member? Join AMTA & Start Saving
Never Miss a Discount at Massage Warehouse!
You can now link your Massage Warehouse account to your AMTA membership so you can shop WITHOUT having to log in through AMTA's site first!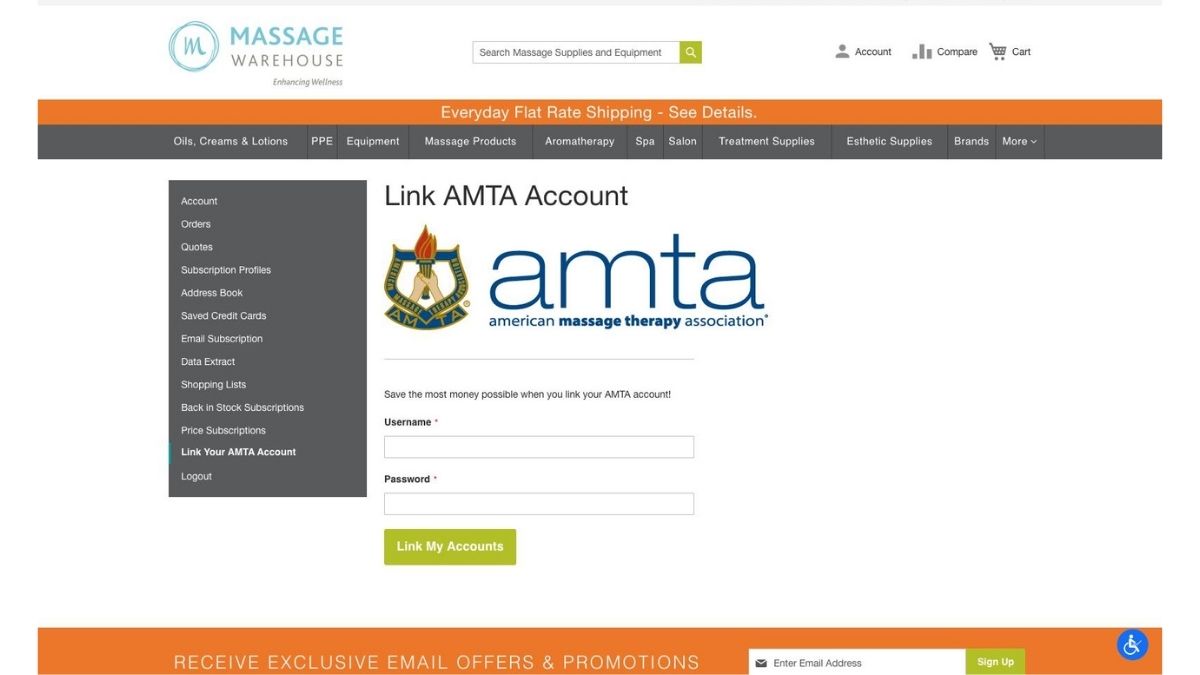 You can link your account in two ways:
Option 1: Log in to the AMTA website above, and click the button at the top of this page to get to the Massage Warehouse site. Once on Massage Warehouse, a pop-up box will ask you to connect your AMTA account to an existing Massage Warehouse account or create a new one. This will connect the two accounts.
Option 2: Log in to the Massage Warehouse website, then from the Account page select "Link your AMTA account." This page will prompt you to log in with your AMTA website credentials.
If you have any issues connecting your accounts, please contact Massage Warehouse customer support at 1-888-918-2253.
---