AMTA 2023 National Convention Continuing Education Sessions
Earn a year's worth of the highest quality CE in the massage profession.
August 24-26 | Phoenix, AZ
Take advantage of our high-quality continuing education classes taught by leaders in the massage profession at the AMTA 2023 National Convention. Practice new massage techniques in hands-on classes, and broaden your knowledge with courses in business, self-care, research, ethics, sports massage and fascial therapy. Plus, learn the latest massage techniques for a variety of health conditions.
All massage therapy continuing education at Convention is rigorously vetted and submitted for NCBTMB and state review.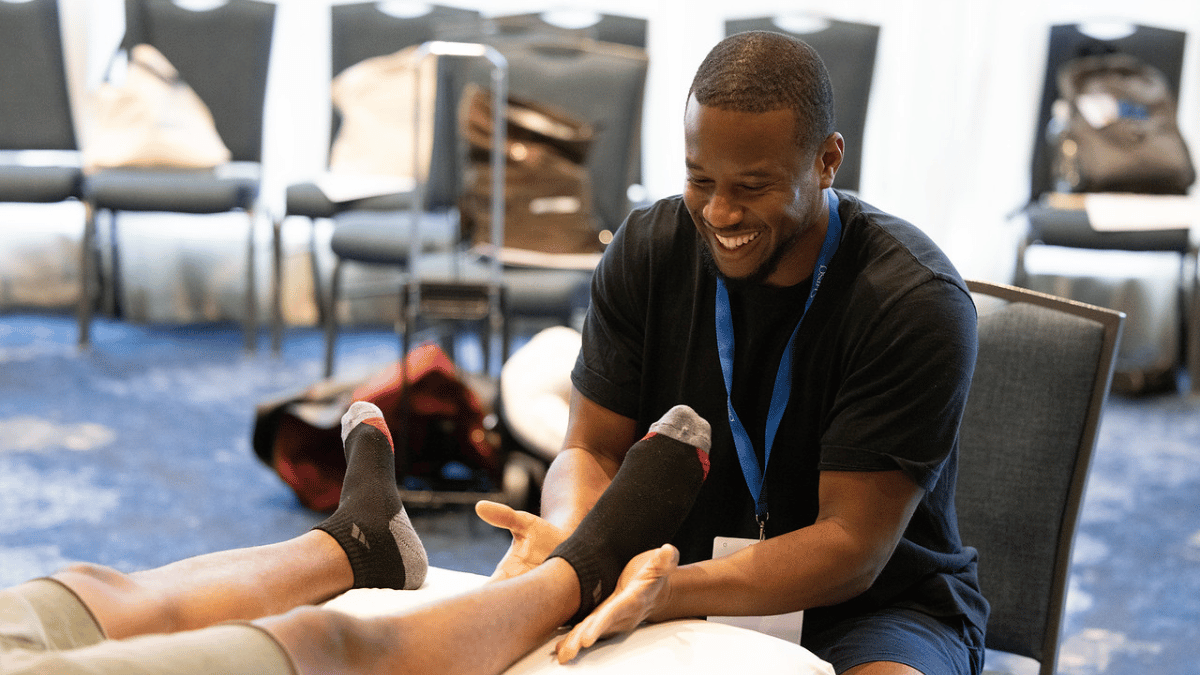 Badge Pickup at the Phoenix Convention Center
Attendee badges must be displayed at all times.
Wednesday, August 23: 11am-5pm
Thursday, August 24: 7am-6:30pm
Friday, August 25: 7am-6pm
Saturday, August 26: 7am-12:30pm
AMTA 2023 National Convention Continuing Education Sessions
Table Storage Hours and Location
Complimentary table storage will be available at the Phoenix Convention Center.
Wednesday, August 23: 11am-6pm (If you would like to store your table in advance of a session on Friday or Saturday, please drop off during these hours.)
Thursday, August 24: Closed
Friday, August 25: 7am-6pm
Saturday, August 26: 7am-4:30pm
Planning For Your CE Sessions
Check class descriptions for required materials before registering.
While AMTA makes every attempt to present information that is beneficial to you and your massage therapy practice, the programs provided by AMTA are for educational purposes only and are not intended to cover every situation that you may encounter. Information presented here does not replace your independent judgment and that of your company and/or employer. AMTA does not endorse or approve, and AMTA assumes no responsibility for, the content, suitability, accuracy or completeness of the information presented.
You are responsible for ensuring any new techniques or products that you use comply with your state's defined scope of practice for massage therapy. Visit our State Regulations page for details.
On-Site Class Changes
To create an ideal educational experience for everyone, we will be strictly monitoring class capacity and on-site class changes will not be allowed. If you would like to change a class from your initial selection, please email convention@amtamassage.org by August 1 and we will do our best to accommodate your request where space is available.
To ensure a safe and enjoyable experience for all attendees:
AMTA National Convention badges are required for entry at all times including all education sessions, social events and the Exhibit Hall.
No infants or children under the age of 16 are allowed onsite at any AMTA events.
Any person engaged in disruptive behavior of any kind may be removed from the premises at the discretion of AMTA or the facility.
Review the program waiver.
Thanks to Our Committees
Thank you to the Operational Committees who provide valuable input on Convention program content.