Jeanette Roach Announced as 2021 Teacher of the Year
The AMTA Jerome Perlinski Teacher of the Year Award honors one teacher every year who has gone above and beyond for the profession.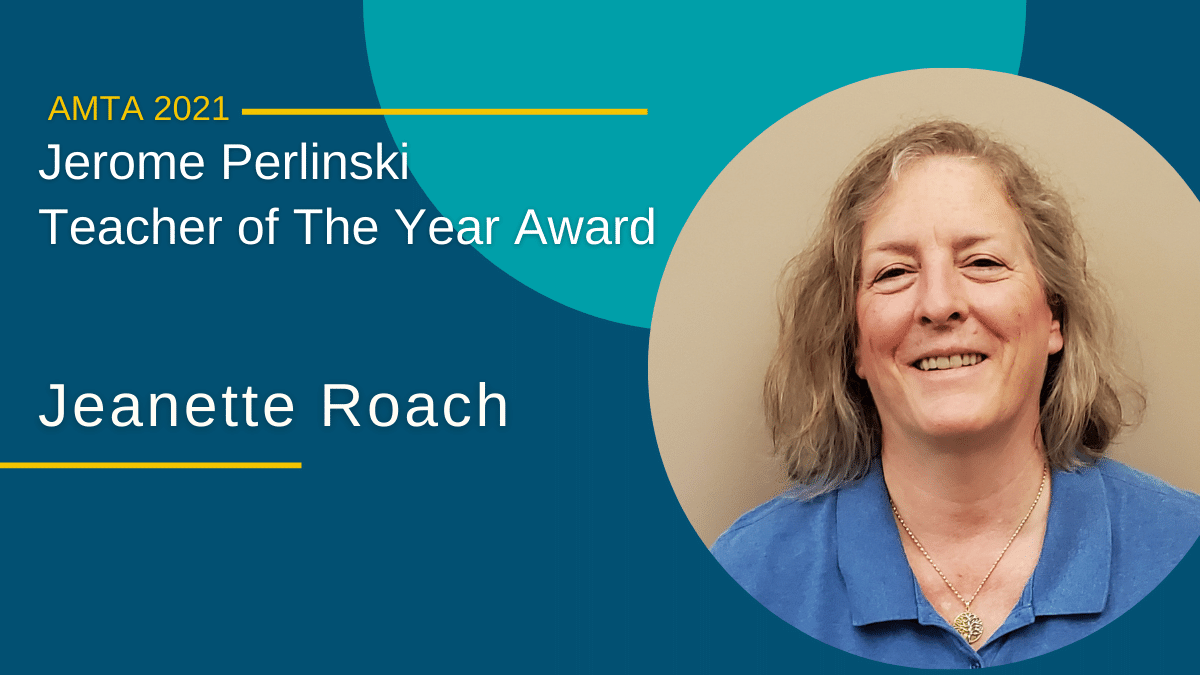 Every year, AMTA shines a spotlight on one teacher who has gone above and beyond for the profession. This year we are proud to celebrate and congratulate, Jeanette Roach, the 2021 recipient of the AMTA Jerome Perlinski Teacher of the Year Award, who has impacted the lives of many through her creativity, enthusiasm and dedication to massage therapy education.
Jeanette has been a massage therapist for 23 years and is the Lead Instructor at Irene's Myomassology Institute in Southfield, Michigan, the oldest and largest massage school in the Midwest. At the school, Jeanette teaches a range of subjects including hands-on classes, anatomy and applied myomassology bodywork.
Jeanette has always been a favorite among students and is admired by her fellow instructors. She is known for readily identifying student strengths and struggles, and modifying her teaching approach accordingly. And, during the challenges of the past year, Jeanette was instrumental in helping the school pivot to online learning, researching everything she could find on the subject, and seeking creative ways to engage her students in a remote environment.
Those who nominated Jeanette for the award describe how she has made a lasting impression on her students and colleagues. "Jeanette is so enthusiastic and focused in each moment she is teaching." "One of her most creative teaching endeavors is re-writing lyrics to popular songs using anatomical terms. I loved hearing her sing the songs she wrote to help us learn. Anatomy Pie (to the tune of 'American Pie') and We Will Chart You (to the tune of 'We Will Rock You'), just to name a couple." "The opportunity to learn from Jeanette is taken with unmeasurable gratitude. Her professional and classroom experience, and the education she passes on to us, is what will set each of us apart for the rest of our careers."
"We are delighted to recognize Jeanette for her outstanding contributions to massage therapy education," said AMTA President Steve Albertson. "Teachers like Jeanette are vital to inspiring and developing new massage therapists who are the future of our profession."
AMTA's Teacher of the Year Award is an honor bestowed on an instructor in an AMTA member school who demonstrates exceptional teaching abilities and a commitment to high standards of education in massage therapy. This award is in memory of Jerome Perlinski, an extraordinary educator and much-loved leader.
Thanks to NCBTMB, the sponsor of this year's award.