Table Talk: Selecting a Massage Table
Learn to select the best massage table for your practice.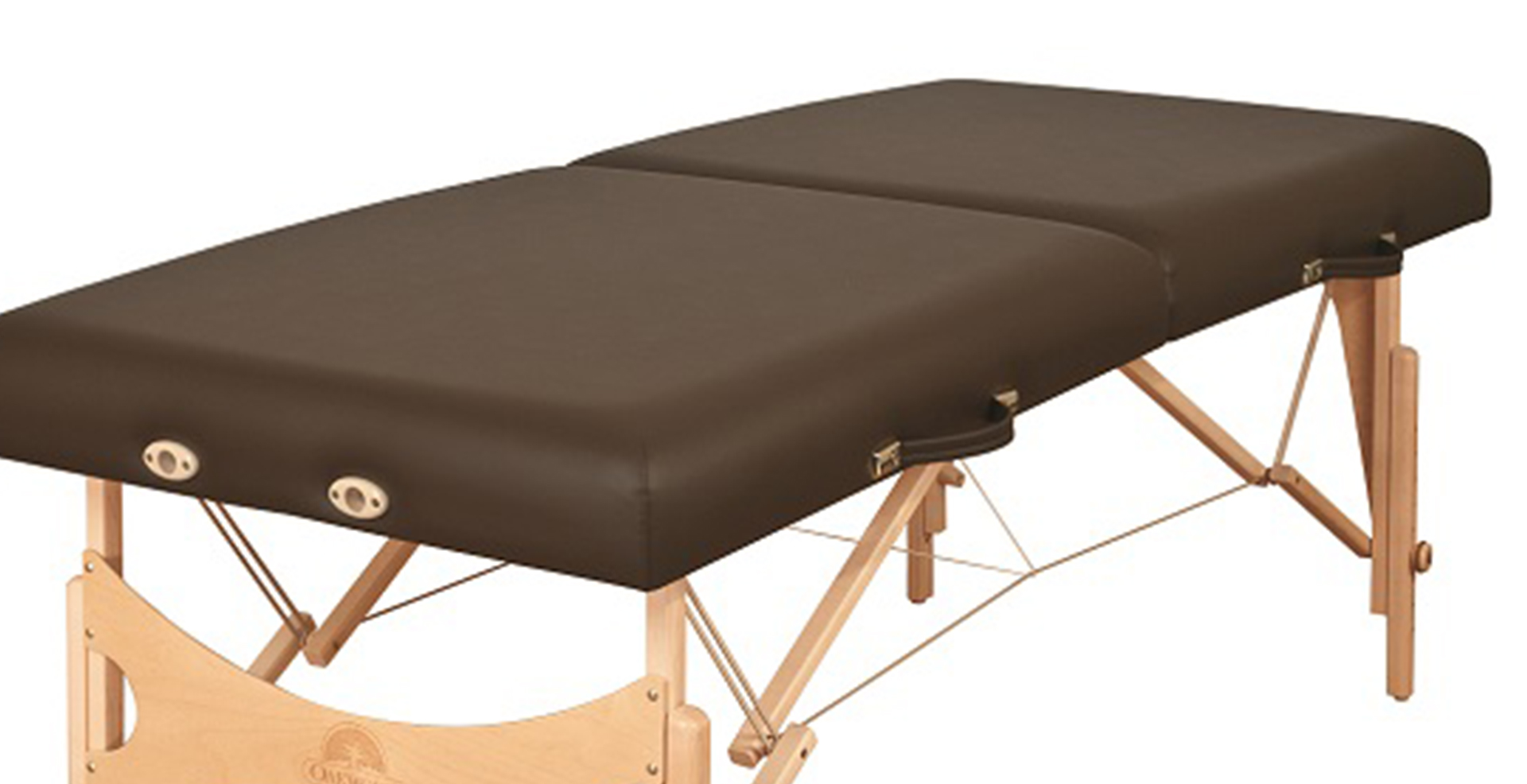 Next to your massage therapy education, buying a massage table is likely one of the biggest purchases you'll make during your career. Here, we'll break down some of the things you'll need to keep in mind when buying a massage table, whether you're buying for the first time or the fifth time.
From the absolute need-to-have features to how ergonomics should factor in your decision-making, our experts give you the information you need so you can be confident that the massage table you buy is perfect for you.
Know What You're Looking For
The best way to get a massage table that will fit both your professional needs and personal budget is to ask yourself some questions before you purchase. "First, you must determine how you will be using the table," says Angie Patrick, director of corporate sales and business development for Massage Warehouse. Sounds simple enough, but Patrick advises massage therapists to go beyond the obvious. Do you plan on being mobile at all? Are you a home-based or practice-based business where travel will be infrequent? What is the size of the space you'll be working in? "If you plan on being a mobile therapist, you need to look for a table built with ease of operation and set up," Patrick explains. "If you plan on a home-based business with little travel, you might look at a stationary or lift table."
The industry standard width for massage tables is 30 inches, and length can vary from 72 to 73 inches, according to Patrick. "Look for tables with good hinges and rubberized feet that will prevent sliding on tile or hardwood floors," she encourages. "Piano hinges or full-length hinges are preferred." Be aware, too, of the foam density, which can vary from single to double to triple. "Double and triple layers are typically longer lasting and wear better," Patrick explains.
Client safety should also factor into your table choice, so along with strong hinges, foam density and rubberized feet, Patrick encourages massage therapists to look for tables that have a working weight of 400 pounds or greater and dual wheel knobs on the legs to protect against liability. "Dual articulating headrests will enable greater flexibility for head positioning, too," Patrick adds.
Keep Ergonomics in Mind
Be mindful of ergonomics: the design and layout of equipment that considers the capabilities, limitations and variations of the human body so as to reduce/prevent cumulative trauma disorders. Ed Mohr, a massage therapist who is also a retired certified ergonomics professional, encourages massage therapists to keep ergonomics top of mind when considering table options, particularly table width, height, weight and adjustability.
For portable tables, Mohr advises massage therapists to remember they're going to need to carry the table to various locations, so weight should be a top consideration from an ergonomics perspective. "You also want a table that's compact enough to fit in your vehicle," he adds. "Narrower is better for going to a client's home or business, as work space may be limited."
When buying a stationary table, Mohr believes hydraulic or electric height adjustability tops the ergonomic list, when possible. "Since hydraulic requires pumping action by the therapist, electric is preferred," he adds. The table should be wide enough to accommodate the majority of clients you're going to be working on, according to Mohr, but not too wide that you'll have to overreach when applying pressure to the centerline of the body.
Whether buying a table that is portable or stationary, Mohr says the midrange of adjustability should be approximately one-half your body height to accommodate the majority of clients while still allowing for proper body mechanics.
And here is where Mohr cautions against the idea that ergonomics without good body mechanics will ever help massage therapists prevent injury. "Even with the best table, proper body mechanics by the massage therapist is essential," Mohr says. "Injuries will occur if the therapist's body mechanics are poor."
What About Price?
Patrick advises massage therapists to buy the best possible table they can fit in their budget. "But remember, high-priced does not always equal high quality," Patrick says. "You are looking for a strong, professional-grade table complete with a warranty, which can range anywhere from approximately $200 for portables to as much as $3,000 and more for lifts."
And though there might be some sticker shock when you think about spending $3,000 on a massage table, Patrick believes there are some compelling reasons to purchase a lift table if you can make this purchase fit your budget, including the ability to make adjustments much more quickly and easily.
Being on a tighter budget, though, doesn't mean you can't afford a great table, Patrick says. "There are many good options on the market for a great table at affordable prices," she says.
Though you might be tempted to buy the cheapest table you can find, shop on a sale site or purchase your table used, Patrick warns against all of these scenarios. "What feels like a bargain now may cost more in the long run," she says. "The problem with buying used is that you have no idea how the table was cared for—if parts are worn, weakened or damaged. More importantly, you have no protection if the table fails. There's no warranty that applies to a secondhand table, and unless you are the first owner, many manufacturers will be unable to help you."
With so many options available, buying a massage table—particularly if you're a first-time buyer— might seem like a daunting task. But when you take your time and really consider what you need, as well as what fits your budget, getting a table that works for you and your practice doesn't have to be hard.
Going Mobile
There was a time when doing any mobile massage almost certainly meant investing in a massage chair in order to not risk injury by having to lug around a heavy table. According to Massage Warehouse's Angie Patrick, that's changed with the invention of the table cart. "Utilizing a cart is a great way to save your back and avoid injury, and it opens up a wide array of tables for you to choose from since it practically negates the weight concerns," she explains. "Look for a cart that is easy to use and store, and has strong wheels and axles."
Ed Mohr, a massage therapist who is also a retired certified ergonomics professional, suggests massage therapists might also find a carrying case with an adjustable strap and handle to be suitable, or a luggage carrier that fits the table you purchase. "Whatever you do, try it before you buy it," Mohr says.
If you know a massage chair is what would work best for you, Patrick encourages thinking about how you'll be using the chair because there is such wide variation in these products. For example, if you know you'll be using your massage chair mostly at events or only on occasion, finding a more cost- effective chair is likely the best option. "The client will be in the chair a minimal amount of time, so massage therapists can look for a lightweight and easily carried chair that weighs 14 to 20 pounds or so," Patrick says.
If, on the other hand, most of your practice is going to involve chair massage, investing in a better-quality massage chair is wise. "If you're doing chair massage as the main part of your business, then invest in a chair that's more plush and has a heavier weight," Patrick advises. "The clients will be in the chair for longer periods and comfort is paramount. Look for greater adjustment options, sternum pads and working strength."