Come Together: Massage & Integrative Medicine
Learn how massage therapy is being used in the integrative health environment.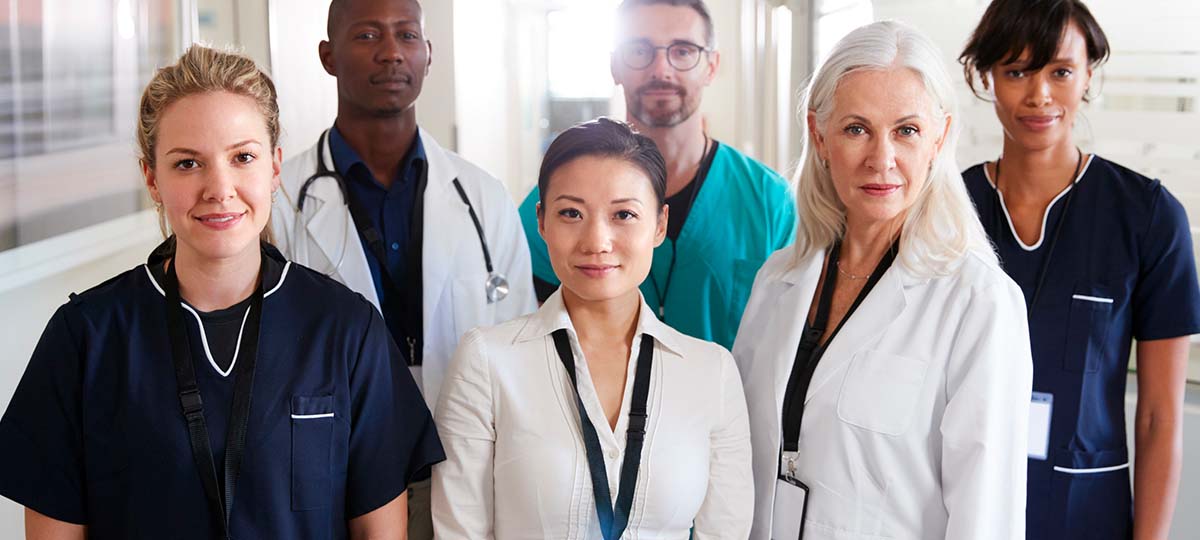 Baby boomers who have become accustomed to having things their way, an American population that continues to age, and health care costs that aren't sustainable in the long run are demanding that health care focus more on maintaining health instead of simply treating illness and disease. Something conventional medicine hasn't always been good at doing.

But that's not saying conventional medicine isn't valuable. What integrative medicine has been able to do, however, is take the best of conventional medicine and combine it with treatments and therapies that in some cases are proving themselves far better at promoting health and wellness.

Massage therapy has played an integral and important role in this setting by helping patients take better care of themselves, and live with less stress and less pain. Read on to learn more about how massage therapy is used within the integrative medicine environment, as well as what's expected of massage therapists working in this setting.
Forward Momentum
There are cultural shifts happening in this country that give massage therapy an advantage in health care environments, the primary one being the distinct movement away from what Dr. Brent Bauer, director of the Complementary and Integrative Medicine Program at the Mayo Clinic in Rochester, Minnesota, describes as "fixing what's broken" toward preventive medicine that aims to promote wellness.

Consumers are increasingly less interested in waiting until they need medical intervention and are instead looking for resources to help prevent illness and disease in the first place. "The focus of these treatments on the whole is wellness and prevention," says Dr. Leslie Mendoza- Temple, medical director of the Integrative Medicine Program at NorthShore University HealthSystem in Glenview, Illinois. "The focus is also largely on stress reduction, which is sorely needed for many of us who work too much, sleep too little and maybe not eat as well as we should."

And at the heart of what Bauer and Mendoza-Temple have individually discovered is the key to what still drives the integrative medicine engine: patients. Consumer interest and the spiraling cost of health care cracked a door that massage therapy and other treatments have since blown wide open.
Now perhaps more than ever, integrative medicine is giving patients an active role in their own health care. "I gauge the patient's interest first before choosing one modality over another," explains Mendoza-Temple. "Oftentimes, patients have already decided whether they want to pursue massage therapy or acupuncture before they come to see me."

Bauer's experience is similar. After joining the Mayo Clinic practice in Arizona, he realized his patients were using a whole host of therapies he was unfamiliar with, including yoga, acupuncture and massage therapy. "I saw patients helped tremendously by these practices, and also a few that were harmed," he says. "I became convinced that conventional physicians had an obligation to learn more about these therapies so we could help our patients incorporate the beneficial ones and steer them clear from the ones that might cause harm."
Why We Need Research
Bauer isn't shy, however, about pointing to the one difficulty that seems to pretty consistently shadow massage therapy's acceptance in different health care environments—the lack of definitive research. "Whether it is right or wrong, health care in this country is still driven largely by a biomedical model in which physicians take the lead role," he says. "Physicians who have trained in the last 20 years have been taught to look for evidence behind everything they do."

Knowing this, Bauer and his colleagues have been able to design research protocols that helped put massage therapy on the map in the health care environment, particularly with post-operative patients. "If we had gone to our surgical colleagues and said 'you really should try using massage in the post operative care of your open heart patients,' we wouldn't have gotten very far," he explains. "But because we designed rigorous, scientifically valid protocols which did show the safety and efficacy of massage in post-operative patients—we were able to get massage incorporated into the routine care of surgical patients at Mayo Clinic."

And that's been no small boon to the therapies—including massage therapy—that until recently have only surfed the perimeter of patient care in more traditional medical settings. When heavy hitters in the medical arena like the Mayo Clinic start getting results, other health care institutions pay attention. "The Mayo Clinic is the No. 1 most respected source for medical information in the United States," says Bauer. "Our use of massage led to literally dozens of other hospitals around the country following our lead and introducing massage into the care of their patients."

Mendoza-Temple has also seen a growing acceptance of an integrative approach to patient care since first starting in the medical field. "I've seen greater acceptance from primary care physicians and specialists through increased referrals to my practice and my team of practitioners," she says. "We have also been invited to set up operations within the hospital for inpatients, both adult and pediatric, and at the Kellogg Cancer Center at NorthShore University HealthSystem in Glenview, Illinois."

Success like what's been seen with post-operative open heart patients at the Mayo Clinic doesn't mean the work on research is done, however, though Bauer's pretty confident in what massage therapy can provide in an integrative medicine setting. "We have now completed eight studies on patients and three on staff, both in the hospital and in the outpatient setting," he says. "I am impressed by the fact that regardless of where it's offered, massage almost always shows significant effects on stress."

Rebecca Massman, a massage therapist at the University of Wisconsin Madison Integrative Medicine Program, sees a lot patients looking for help managing pain, too, another benefit of massage therapy that's fairly widely—and well—documented. "The vast majority of clients see me for some sort of pain relief," she says. "It may be chronic pain from trauma, such as an athletic injury or accident. Many clients have work-related pain, too, and others suffer from inflammatory conditions like fibromyalgia, or have recently had surgery."
Patient As Whole Person
Perhaps one of integrative medicine's hallmark features is its abiding respect of the idea that patients are more than the sum of their symptoms. "We definitely have a whole person view of our patients' health, focusing on nutrition, exercise, stress management, community and spirituality," Bauer explains. "Our goal is to help each patient find the optimal approach to enhance their health and promote wellness."
According to Bauer, most of the patients he sees need help managing stress, and that's where massage therapy once again really shines, giving patients a way to begin the process of taking better care of themselves. "I find that many patients are so stressed that they simply can't start out focusing on a mind-body practice such as meditation. They're simply too frazzled, and asking them to take on one new thing just isn't feasible," he says. "Thus, massage—which is something we provide to the patient as opposed to something they have to do for themselves—is often the first step in getting the whole plan started."

Interestingly, many patients develop a loyalty to massage therapy. Even if they go on to use other self-care techniques to manage stress, they still use massage therapy when looking for help with other conditions. "Many patients find that massage remains a regular part of their stress management practice," Bauer says. "Others 'graduate' and find that they can now focus more on the self-care skills such as meditation for stress management and use massage in a more targeted fashion for specific musculoskeletal issues or at times of peak stress."
The Integrative Environment
One of the biggest necessities in an integrative medicine environment is similar to what you might expect with hospital-based massage: good communication skills.
Whether following a patient's electronic chart, detailing to another medical professional how you've worked with the patient, reporting observable outcomes or speaking with a patient, massage therapists working in an integrative medicine setting need to be able to communicate on many different levels with many different health care professionals.

Electronic charting. When Earon Davis joined Mendoza-Temple's integrative medicine team at NorthShore University HealthSystem as a massage therapist, he received training and was tested on the electronic charting system used within the hospital. "Massage therapists need to be able to write specific yet concise SOAP notes," he explains. "They also need to be familiar with medical terminology, pathology, indications and contraindications."

For Mendoza-Temple, electronic charting is key to smooth communication between all practitioners who work with a single patient. "The electronic medical record is our saving grace with respect to communication," explains Mendoza-Temple. "We send our physicians, nurses and physical therapists notes from our visits, as well as everyone on the integrative medicine team so that our patients' care plans are transparent to everyone."

As Mendoza-Temple points out, all members of the integrative medicine team are very seldom in the office at the same time, making electronic charting a great way to communicate with one another about a patient.

Face to face. One unique communication feature you might find in this environment is a monthly or semimonthly face-to-face meeting of all the members of the integrative medicine team.
During this time, a wide array of topics are addressed, all aimed at keeping the members of the team updated, active and healthy. "We discuss the latest developments in our respective fields," explains Mendoza-Temple, talking of the twice monthly meetings she holds with members of her integrative medicine team. "We also talk about patient cases, and work on self-care to avoid burnout."

The integrative medicine team Massman is a part of meets once a month, for many of the same reasons. "Our integrative medicine practitioners, about 30 providers, meet to share a client case and get input from various disciplines," she explains. Massman also sees these meetings as a benefit for the patient, as they then get a sense they are being cared for on many levels, which might prove reassuring to someone struggling with stress or pain management.

Hand in hand with good communication skills is the ability to truly be a team player. As the name "integrative" medicine suggests, this environment combines several different therapies and treatments, some of which are performed concurrently.
According to Mendoza-Temple, for example, patients might do concurrent therapies like massage and acupuncture. "I think that results seem to come faster when both treatments are used close together," she says.

So to say that cooperation rules the day in integrative medicine might be understating the nature of this environment. "We encourage cross-referral between bodyworkers and other practitioners," explains Mendoza-Temple. "We believe that collaboration, not competition, is best for our patients."

Still, collaborating and cross-referring ends up being positive, particularly when you have patients who feel better. "Ultimately, the patients get what they need and refer their friends and loved ones to us," Mendoza-Temple notes. "Those referrals end up increasing everyone's business."
What's Expected of Massage Therapists
Because the integrative medicine environment is so team-oriented, massage therapists need to be able to work well with a whole host of individuals in order to succeed in this setting.
Being able to work well with a team was mentioned by almost everyone we talked to about what's expected of massage therapists looking to join an integrative medicine team. So, think hard about how you'll deal with a wide array of personalities and people who come from different backgrounds with different areas of expertise before pursuing work in this environment.

Having some decent experience in the massage therapy profession in general, as well as a variety of techniques to draw from, also rank high on the list of things those making hiring decisions in integrative medicine environments look for. "I like practitioners who bring multiple skills to the table," explains Mendoza-Temple. "I like experience and expertise in at least two different styles or specialties of bodywork technique."

Above and beyond specific skills in massage therapy, however, is the need for a genuine interest in health and wellness—both from the perspective of the patient and yourself.
In the integrative medicine setting, talking the talk without walking the walk won't get you very far, so be sure you're already focused on your own self-care before approaching someone in this environment. "All of our massage therapists are individuals who value the importance of health and wellness, and see their work as an integral part of the program," Bauer explains. "They model these values in their personal lives and bring that experience to bear in helping each patient achieve their own goals."