Soothe: Quick Self-Care Tips
Quick self-care tips to help massage therapists take care of themselves both physically and mentally.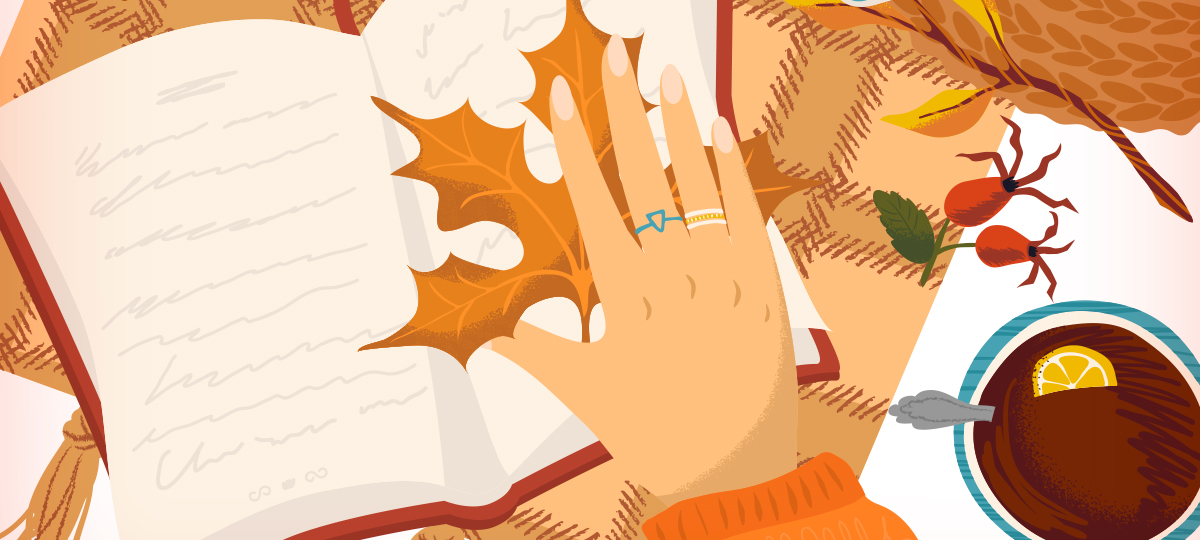 5 Tips for Comfort and Relaxation
1. Take in the changing colors. Research supporting the benefits of forest bathing (Shinrin-Yoku) consistently shows the practice can benefit mental health and help reduce symptoms of depression and anxiety. For many, the fall season, with shorter—and cooler—days, can be difficult. But fall is also a time of magnificent color and the promise of renewal. Find some time to get outdoors and bathe in the beauty of nature, especially if you're looking for the opportunity to recharge and reconnect.
You don't have to live in New England to get great fall leaf color. Google "best places to see fall foliage" and several options across the nation come up, from Shenandoah National Park in Virginia to the Upper Peninsula in Michigan to Door County, Wisconsin, to Chuckanut Drive, Washington.
2. Give yourself a relaxing foot soak. As temperatures start to dip, spending an evening giving yourself a soothing foot soak can be a great cozy pick-me-up, especially after a busy day on your feet in your massage practice.
For a moisturizing soak, dissolve 1 cup of honey with 1 cup of coconut milk in boiling water and slowly add to a washbasin or tub of warm water. Sprinkle in 1 teaspoon of cinnamon if desired and soak for 15 to 60 minutes. Or, choose your favorite aromatherapy scent, add five to 20 drops to 2 tablespoons of carrier oil and add to washbasin or tub of warm water. Add dried flowers, lavender, rose, or chamomile for extra indulgence.
3. Make a happy list. As summer wanes and you start to look toward fall, gathering a list of some of the things that make you feel happy can be a great idea—and give you an easy place to turn when you need to recharge on those gray fall days.
Don't limit yourself. If something makes you happy, add it to the list. You might find joy in spending five minutes with your pet. Or, have a quick chat with a close friend or family member. Yoga, meditation, a brisk walk around the block or a mid-afternoon cup of tea—the goal is to give yourself a variety of ways to find comfort in a season that can be hard for many.
4. Roast fall vegetables. Squash, Brussels sprouts, sweet potatoes, carrots, cauliflower, turnips and kale are all at their best in the Fall and are great vegetables to roast because they're hearty enough to stand up to a hot oven. All you need is a few tablespoons of olive oil and salt and pepper to taste. Or, get creative with herbs and add some sprigs of rosemary or thyme.
If you want to get more adventurous, look for recipes that take advantage of fall's bounty, like a pumpkin curry or carrot and sweet potato soup.
5. Revisit old favorites. Sometimes, leaning into those things that are familiar is exactly what we need to feel good. If you find you need to unwind or recenter yourself, grab a favorite book or movie and settle in for an evening of relaxation.
Treat yourself! Whip up a batch of homemade hot chocolate with this easy recipe for added comfort:
Place 4 cups milk, one-quarter cup cocoa powder and one-quarter cup granulated sugar in a saucepan over medium to medium-low heat until heated through but not boiling, whisking frequently.
Add one-half cup bittersweet or semisweet chocolate chips or chopped up chocolate bar and whisk until completely melted.
Whisk in one-quarter teaspoon pure vanilla extract.
Body Mechanics Refresh: 3 Quick Reminders to Maintain Good Body Mechanics
Create force with forearms or fist. Your fingers and thumbs should be saved for delicate massage work that does not require large amounts of force, like around the face and neck. For the balance of the body, try using your forearms and fist to create the pressure you need. Additionally, use your own body weight to generate pressure from your core instead of your muscles, or create counter pressure by grasping your massage table and pulling up or back, using the table as leverage.
Pay attention to your stance. Your feet should start shoulder-width apart, pointing forward. An asymmetric stance, with one foot forward and one foot back, is optimal. Face the direction of the stroke with your hips, shoulders and head aligned, and use the arm associated with stroke, with the forward foot matching the arm being used. For example, if the massage stroke is going right, use your right arm and put your right foot forward. Remember, your back foot should remain on the floor.
Create hills and step into strokes. Using an uphill stroke gives massage therapists a mechanical advantage that allows for maintaining pressure on a client without requiring extra force. Bolsters are great tools for creating hills you can lean into. When longer strokes are needed, resist reaching out and instead take a step forward to continue the stroke.