Melanie Eldridge
Two Birds Thai Bodyworks, LLC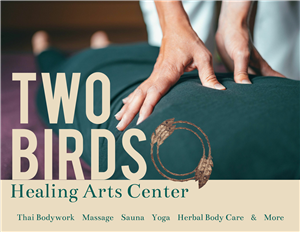 Request an Appointment
Qualifications
Certified by BCTMB
State License/Certificate: AZ MT-04509P

About
Co-founder of Two Birds Thai Bodyworks and Two Birds Healing Arts Center, along with partner Peter Bird. We are privileged to share and provide intuitive Thai bodywork and massage sessions and instruct hands-on continuing education courses in the Thai healing arts and community classes in self-care.
We aim to demystify eastern concepts of bodywork, energy work, and natural healing with western students and clientele. Our goal is to help people feel better in their bodies by discovering their intuitive healing potential through bodywork, massage, and self-care while learning how to integrate these beneficial practices into their lives.
We help encourage our students and clients to feel and experience, rather than conceptualize, certain aspects of healing art therapies that can deepen the heart-mind-body connection. Self-care is a cornerstone of health and wellness. As providers, we need to be free from the burdens of chronic imbalance to be most effective in what we do. Maintaining a healthy daily ritual for self-care is essential for us, and we encourage our students and clients to do the same. Studies with our beloved Ajahn Pichest Boonthumme in Northern Thailand have given us a unique approach to our practice. We are most grateful for his care, wisdom, and teachings. Our almost effortless style of Thai bodywork is not the most flashy version of Thai massage you'll find, but it is the most therapeutic. Not only will it increase health and vitality for clients, but if done correctly and with the right intention, for the provider as well.